The main difference between coliving spaces and other hospitality establishments is that a true coliving is always rooted in the deep personal feelings of its creator. A coliving is a purposeful vision to create not only a space, but an experience, a feeling, that will nourish the soul, and wake its residents' core memories.
Some colivings might evoke peace and slowing down, others passionate feelings of creation and innovation, and some just might give you the family you were missing. Whatever it is, it is almost never superficial but rather a life-changing experience to help you heal or find the missing peace.
Pomar coliving was born in the same way – inspired by deep feelings and love for the Algarve region, the peacefulness and intimacy of its location, and the passion for the outdoors, sports, and sharing all of this with a community.
Read below the interview we did with Claire, the founder of Pomar coliving, and follow their story from the inspiration to the launch phase.
Enjoy!
About Beginnings
1. Would you tell us a bit more about your journey before opening Pomar?
Claire: I was a Digital Consultant/Product Owner in Paris for 10 years 🙂
2. Could you tell us the story of how Pomar coliving was born?
Claire: I come from a family of entrepreneurs. I always wanted to build something that made sense to me. Pomar was born after Covid. I was tired and I went to see my parents in Portugal. I fell in love with this abandoned ruin on my family's agricultural land.
We (Hadrien, my partner, and I) started to get interested in the hospitality sector and discovered the concept of Coliving and Coworking.
After having worked remotely for more than 1 year, we immediately knew that was the right project. So we decided to completely change our life. I quit my job and we moved to Portugal to follow the construction work and start the project.
3. Have you had the opportunity to stay in some other coliving spaces or any similar type of accommodation before you decided to open your own place?
Claire: I used to go to coworking places in my former job as a consultant like Wodjo in Lyon or WeWork in Paris. What struck me the most was the lack of closeness between the coworkers; we worked in the same open space but without ever talking to each other.
4. When building your space, was there something that influenced your approach or inspired you to create the space and experience you have now?
Claire: Not really. Hadrien and I already had a very specific idea of POMAR in mind. We wanted an intimate, elegant, and comfortable coliving.
We worked a lot on the user experience of the house: "What do our users need", "How will they use this or that space", etc.
We also relied heavily on:
Research: Qualitative questionnaire with our target audience
Our beta tests: we carried out 2 beta tests before opening POMAR: We tested the technical quality of the house (wifi for example) and the community part (dinners, sports lessons, etc.)
5. What was the most difficult and challenging for you in the process of opening Pomar Coliving?
Claire: Achieving our 15 months of construction work was a complicated challenge: finding a good builder, good craftsmen, and above all, the notion of time in the Algarve is different. Everything is postponed until the next day. It takes a lot of patience and resilience to achieve your goals.
6. Portugal is one of the most popular destinations when it comes to coliving, what is your relationship with other coliving spaces there? Do you receive support or advice from some of them?
Claire: Unfortunately, I had no support or contact. I believe that unity is strength and that a beautiful community can rest in several places. So, Coliving owners in Sagres or elsewhere in the West Algarve, let's have a coffee when you want!
7. What is the story behind you choosing Brancanes as the location of Pomar coliving?
Claire: This house in this village has always been before my eyes, watching over the orchards, and over the years, the carob trees, and then the apricot trees flower and bear fruit. POMAR in Brancanes is a family story; a story of evidence and roots.
8. What are some advantages and disadvantages (for you as owner) of building a place in a small place like Brancanes?
Claire: First of all, we are only 3KM from the beautiful city of Olhao 🙂
So the advantages are:
Calm
Less stress and noise pollution
Large indoor and outdoor spaces
No distractions, only nature
Oxygen
The opportunity to rediscover the seasons' thanks to our orchards
Disadvantages: Taking the bike or the car to go to the nearest supermarket 2km away? 😉
9. Which uniqueness do you think Pomar will offer compared to other similar places in Portugal?
Claire: POMAR is not just a house that we have chosen and that we rent. POMAR is a life project, which we built and renovated alone for a year and a half, without investors or business angels.
POMAR is a luxury and intimate coliving in the middle of nature, managed by a French-Portuguese woman in love with her region
About Management
10. What type of management will you practice in the coliving? (External – have someone from the outside working as a day-to-day and community manager, or internal – your team living and working on the site providing service)
Claire: I'm the unique Host Manager at POMAR 🙂 I do everything on my own with Hadrien.
Thanks to our diverse professional experiences, we can manage the whole operation from marketing and social media to check-ins and checkouts.
11. How much will you be involved in the coliving community and daily activities? (Will you be part of the community or your role will strictly be professional?)
Claire: I don't live in POMAR. Our coliving has only 5 bedrooms and I am a mother of a 3-year-old little girl. My house is a 10 min drive from POMAR.
I am on site every day with the colivers. We work and do sports together (Yoga, HIIT, hiking, surfing, etc.), and I host 3 evenings a week at POMAR with the colivers (skills sharing, family dinners, etc).
12. What kind of activities will be included for people who decide to stay at your place?
Claire: Included activities can be hikes, beach picnics, family dinners, movie nights, skill sharing nights… The community can also choose its own "a la carte" experiences.
About POMAR Visitors
13. It still might be too early to speak about the profile of people who will come to Pomar, but what kind of profile are you expecting/targeting and why?
Claire: We are open to all digital nomads and remote workers.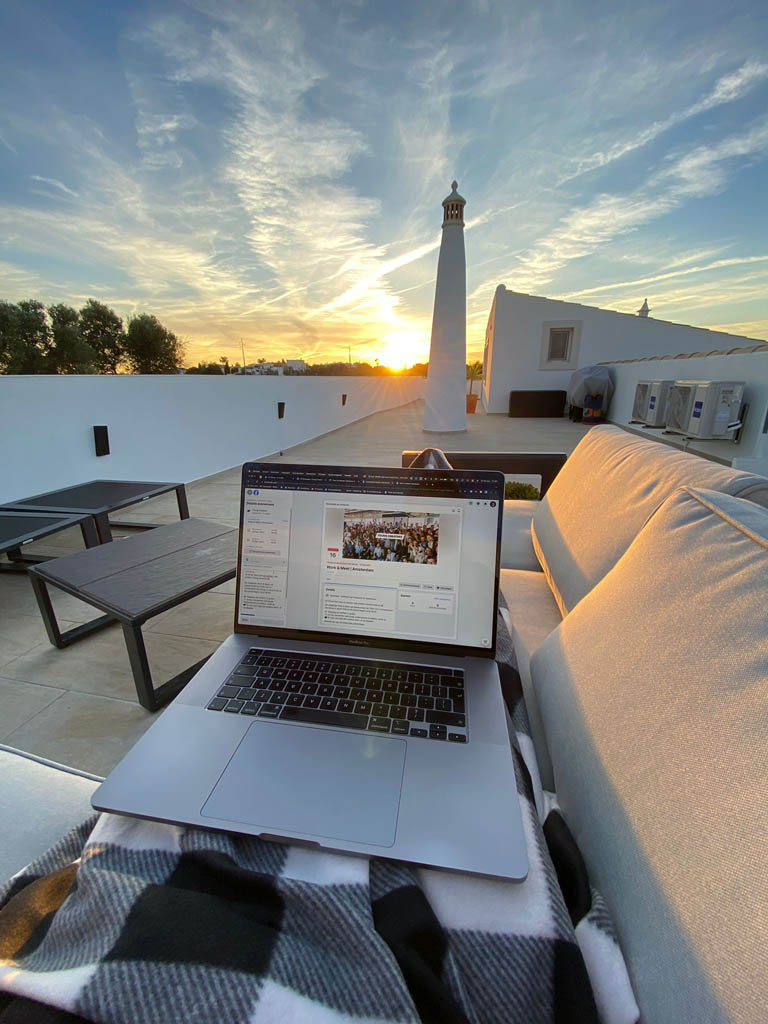 Our 3 most liked qualities for colivers are an open mind, being autonomous, and being respectful of the environment. We also like sporty remote workers so we can share our passion with them.
14. What do you think would be the ideal length of stay for colivers to fully emerge in the experience you are creating?
Claire: I would say minimum 2 weeks! That's the least time needed to get closer to other colivers and discover our raw gems in Algarve.
15. Will you have some special offers/discounts? (For longer stays, group bookings, couples, off-season, etc.)
Claire: Of course!
Our rates are based on the season but what does not change is:
If you stay more than 14 nights you receive a 10% discount
If you stay more than 28 nights you receive a 15% discount
For Booking groups, everything depends on the request, of course, but we try to adapt.
Generally, About Coliving Movement
16. Do you think coliving is only dedicated to a specific group of people such as freelancers, digital nomads, and remote workers, or you think there is a possibility for it to gain popularity beyond that group of people?
Claire: It's already spreading… You see students cohabiting with elderly people. That is coliving too. Not the same experience as in POMAR but it's coliving.
17. Do you think coworking is a crucial component of coliving and why?
Claire: Well, without coworking, it's Cohousing, no? – For POMAR coworking is a crucial component.
18. What would you say is the most crucial element of a coliving?
Claire: The key components include embedding well-being, community, sustainability, and good wifi. 😉
19. One of the main selling points of colivings is the possibility to meet new people, share experiences and maybe even develop new partnerships. Is this something you also had in mind when opening your place?
Claire: Absolutely. I grow continuously by meeting new people thanks to their energy and positivity. This is what we want to offer at POMAR.
20. Lastly, how do you see Pomar developing in the next few years? Do you have a vision of what it will grow into, or some aspirations and goals that you've set for it?
Claire: We have finished the construction work and the testing phase. Now we are in the launch phase. In a short-term vision, I want to build a beautiful community that believes in POMAR's potential, and I want to be happy with my family here in Algarve. Those are my goals at the moment.
---