Everybody dreams of exploring distant corners of the world, and New Zealand is the best representation of those. A country far away from most countries, unique in ways not many people will discover, with out-of-this-world nature and welcoming and cheerful people.
For most people, coming to explore New Zealand can be quite a challenge. When exploring countries you've never been to, you typically test them – come for a few days or weeks and see how you like them.
But with New Zealand being that far away, visiting for only a few days or weeks might be too costly, not very time-efficient, and just too much of a hassle. That's why most people who decide to come, come for a few months at a time. Visiting a place for the first time and knowing you'll stay for a few months looks more like a "moving" process than a "visiting" one, which can be another challenge.
As a potential solution to these challenges, Ben Spence created the first and only coliving space in New Zealand. After experiencing life in shared accommodation while staying abroad, Ben came to understand all the benefits a coliving can have for settling in a new city. With that idea, he wanted to create a safe space where people can meet others and connect as they land, which will ultimately improve their experience in New Zealand – and he did.
MCS had a lovely talk with Ben and now we're inviting you to read the first part of our interview and meet Ben, his journey, and his coliving in Auckland, New Zealand, The Coh.
Enjoy!
How it all started
1. Would you tell us a bit more about your journey before opening The Coh.?
Ben: I went to a boarding school in Auckland and then moved down to Dunedin, in the South Island of New Zealand, and studied down there for four years.
I studied finance and management at the University of Otago, after which I went over to San Francisco, USA, where I got into commercial property management. This is when I stumbled across my first co-living space. I stayed there for around a year and a half and then came back to New Zealand.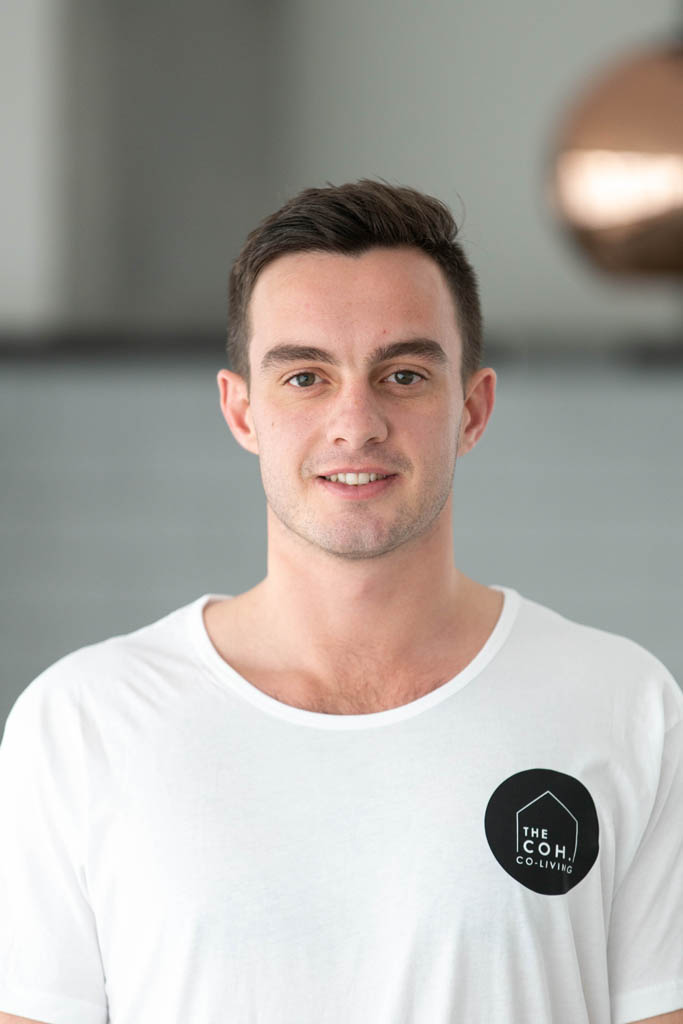 I got into commercial real estate, selling and leasing commercial buildings. I went on to do that until I founded The Coh and was working both jobs until The Coh. got onto its feet. That's when I left the real estate behind, and now, we're here.
2. Have you had the opportunity to stay in some other coliving spaces or any similar type of accommodation before you decided to open your own place?
Ben: I went to San Francisco and just kind of stumbled across this co-living space on Craig's List. The first time I went in for the viewing to check the place out, I remember setting foot inside and thinking this is just absolutely awesome. I moved in a couple of days after that and started writing notes about what could be improved and how the systems work. I was there for just over a year.
The space wasn't as nice as a lot of co-living spaces that are coming out these days, but it had a real sense of community and a really good culture. I think there were around 60 rooms, which I thought was too big.
There was a time when I was walking up the stairs and bumped into a guy who said Oh, hey, have you just moved in? and I said No, I've been here for eight months. And he was there for six months, and we had never met, which I thought was a bit odd. You can't really call a place home if you don't know everyone who lives under that roof. So, that's definitely one idea that I brought back with me.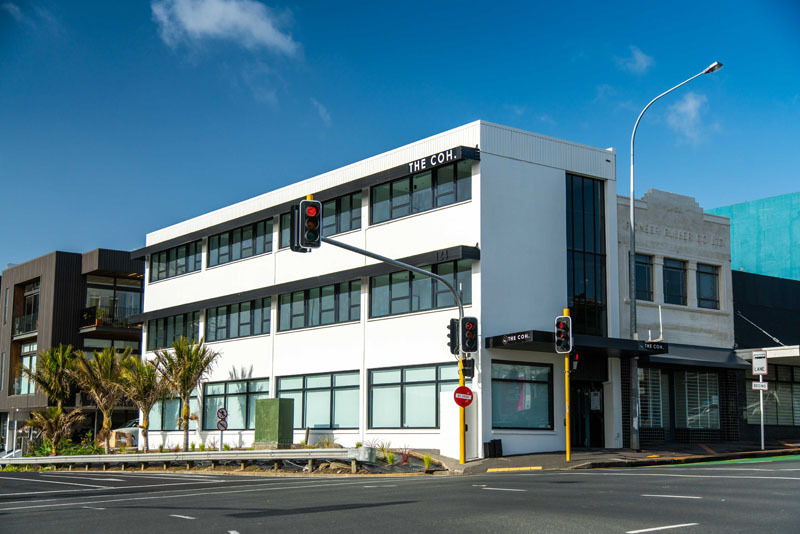 We only have 22 rooms at The Coh., but everyone knows each other, which I think is really important.
3. When building your space, was there something that influenced your approach or inspired you to create the space and experience you have now?
Ben: Just stepping through that co-living space for the first time made me realize I wanted to set up something like that in Auckland. I remember when I was going to the US and I didn't know anyone over there, it was a relief moving into this place within a couple of days and meeting some really good friends with whom I was able to explore San Francisco and a lot of places in California.
We have a lot of people coming from overseas, from different places in the world who haven't set foot in New Zealand before, and it's always quite nerve-wracking for them arriving into a new city. That's why I wanted to set up a nice, safe place where people can arrive and instantly meet some awesome people and feel settled.
4. In Europe, colivings are often in contact with one another to share the experience and support each other. Do you also have that industry support in the form of an ongoing relationship and exchange with other colivings (in New Zealand or beyond)?
Ben: New Zealand doesn't have any other co-living spaces. So, we're in quite an interesting spot, where we are the only co-living space here. Of course, there are boarding houses and hostels and all that kind of stuff, but in terms of co-living and really pushing the community aspect of things, we are really the only ones that do this. So, in terms of a relationship with any other places in New Zealand? No, we don't as we are the only ones here.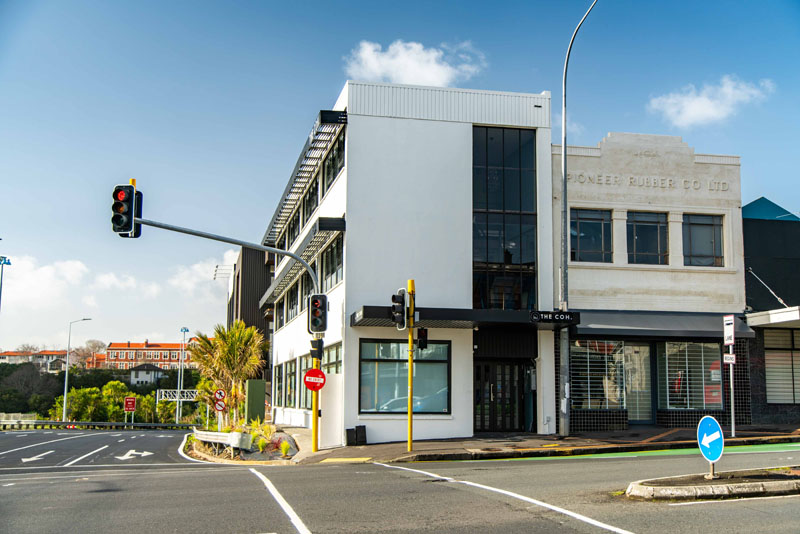 And in terms of anywhere out of New Zealand? Also no. We haven't really been in touch with anyone overseas. We have been doing great over here just on our own and we've just kind of been enjoying the ride, but we also got to take into account that Covid hit 6 months after we started. So, we had a lot of plans change for growth. In New Zealand, we had very strict lockdowns, and we had pretty much no one coming into the country, and no one was able to move around as well.
But, I would love to work with other coliving spaces if there were some in New Zealand to really get the co-living idea out there because we're still quite far behind the rest of the world.
5. Do you have awareness of coliving places in Europe?
Ben: Of course, I'm always doing a bit of research and seeing what's happening overseas. When I was starting up The Coh, I was definitely having a look around and I fell in love with The Collective over in the UK.
In terms of reaching out to people, I haven't really done that just yet, but I'm curious and always researching the co-living spaces around the world and seeing photos of what's happening and what's going around the place.
6. What is the story behind you choosing Auckland as the location of The Coh. coliving?
Ben One of the reasons is obviously that I'm from here and live here, but another reason is that Auckland is the largest city in New Zealand. It's not the capital, that's Wellington, but it's definitely the largest, and a lot of people traveling to New Zealand will fly into Auckland rather than Wellington.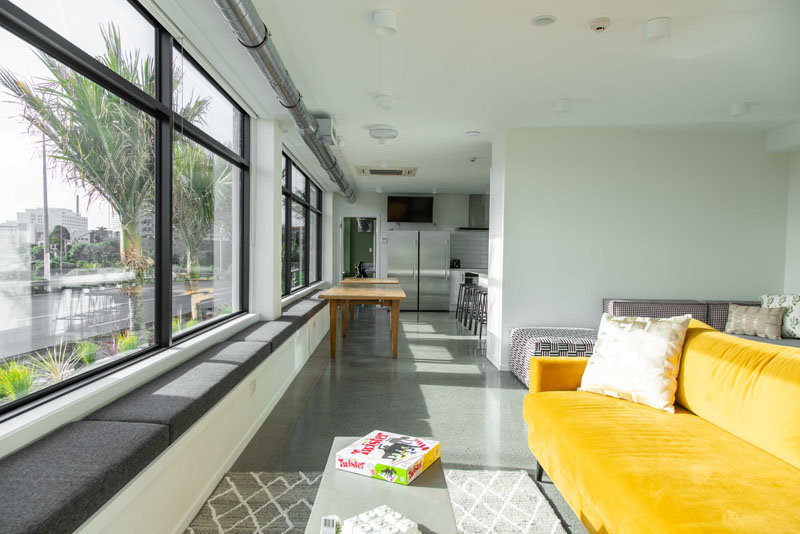 Auckland also has a larger CBD (central business district), therefore a lot more people are working in Auckland, and it attracts more people to come here rather than Wellington. That's why we think this is the perfect spot.
7. Speaking of the location – most colivings can be found in Europe, Asia, and South America, given that you are one of the few colivings in your area, are there some location-specific advantages and disadvantages being in a place somewhat isolated from the typical market?
Ben: The main advantage is that we are the only ones in Auckland. So, that's a huge advantage in terms of being able to get pretty much all of the business at the moment.
And people are curious about New Zealand; they Google and see these amazing beaches, and it's known that the people here are friendly and happy, so that is what brings a lot of people here.
But a disadvantage is that, compared to other co-livings, we're a lot further away. It's not a cheap flight to get here, especially at the moment.
But that also opens another advantage because people coming over here won't be here for only a couple of weeks. They will be here for a bit longer because they want to make sure they get the most out of New Zealand.
8. Which uniqueness do you think The Coh. offers compared to other coliving places?
Ben: I think our one in New Zealand's quite small compared to a lot of the ones that I see (in the USA), and I think that's quite unique in terms of having it like that. I don't think I'd ever be able to go over 30 rooms, I think that's quite a sweet spot. And that just allows all the residents to actually know each other and get along with each other.
I think our community is a uniqueness as well. From looking at Google reviews and researching other places, I see a lot of places calling themselves colivings but I think a lot of them are not pushing that community vibe.
I do find that we really go out of our way to make sure there's always something going on. We're not a big corporate either. A lot of the larger ones around the world are owned by large businesses, which have a lot of money. But I do find that those are there just to make money.
I've been through the whole outfit of living similarly in a co-living space so I know how it works and I really try to leverage up in terms of my stay at that one in the US and make it a better place than it was there.
I think those are the things that got us here. We are very blessed with 50 plus Google reviews and they are all five stars. I think that shows that we put the effort in over here in New Zealand.
Management
9. What type of management do you practice in the coliving?
Ben: We have an internal management system. I've got a manager who deals with the day-to-day running of the place.
I organize the viewings, manage the accounts, and get people settled in. We have cleaners sorted through a cleaning company. I'm not really hands-on involved in the day-to-day stuff, but I do pop in every couple of days a week and make sure the place is ticking along. I think that is something a lot of our residents appreciate, so I make sure that they do see me around.
I love going in as well, seeing what adventures they have done and making sure people are happy at home.
10. How much are you involved in the community and daily activities of The Coh.?
Ben: We organize activities once a month. For most activities we organize, it's usually myself or one of the girls. Depending on my schedule, I always love to come along and spend some time with them. I do it quite a bit.
The residents also have a group messenger, so if they're doing something one weekend, they usually just post up on there and say, I'm going away and camping this weekend. Does anyone want to come along? And then next thing you know, they've got another 10 people heading along with them, which is great.
But as for myself, getting involved in the community is a big part and it helps out with that community vibe.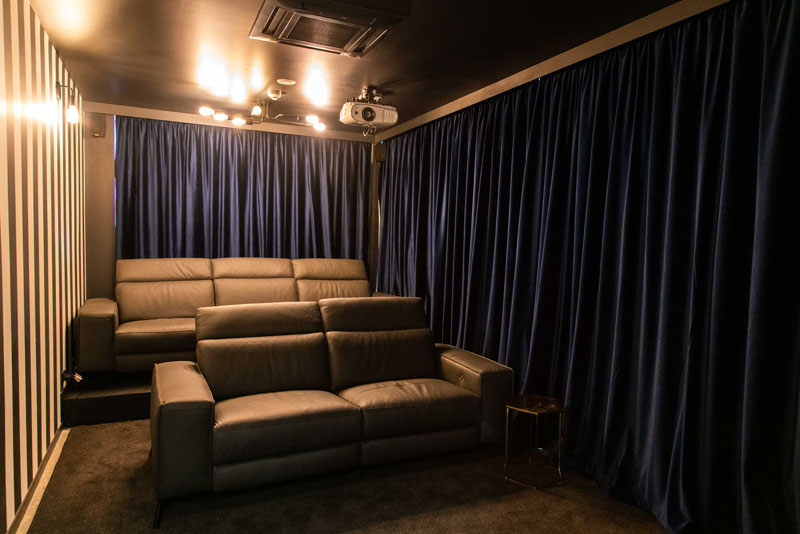 I did live in The Coh. for the first year, just to set that core culture up. And once you've got that culture set up, even when people move out, the core culture is still there and it just keeps on living and breathing in The Coh.
11. What kind of activities are included for people who stay at The Coh.?
Ben: The activities range depending on what season it is. If it's summer, it can be going out to out camping or checking out one of the beaches up north, or go-karting or ten-pin bowling.
There are also activities such as wine and cheese nights and cocktail nights. We've also had a ballroom activity where everyone gets dressed up and does dancing. So, we pretty much range through everything.
If one of the residents did something and they say Oh look, we should try and check this out, then we'll just add that to the list and do it as well. So, a lot of it does come from the residents, which is awesome.
They just give me a couple of ideas and if it's an outdoor event, we'll save it for summer, if it's more of an indoor event, then we'll save those for winter days.
We also put on a dinner on Sundays. We call it family dinner. So, on Sunday, residents don't have to worry about cooking or anything because we put it on.
I think it's very important because it brings everyone down on a Sunday evening. They chat about how their weekend went and what's in place for the week ahead. It's also good for people who are new and have just arrived at The Coh. They get to meet everyone in the place. During the week, people are off doing their thing at work and whatever it entails during the week, whereas on Sunday, pretty much everyone is there to catch up with one another and have dinner.
Ready to read part two of the interview?
---