Since it had a boom during the pandemic and proved to be "the new favorite choice" for digital nomads and remote workers, coliving has become an attractive business venture for many.
Even though many places that started with this goal today provide high-quality experiences, they often lack one crucial component – providing a solution to an existing problem.
Colivings, coworkings, and other community-based projects built to provide a solution like networking, affordable housing, cultural inclusion, sustainable tourism, etc., are giving new value to the world and opening new opportunities for curious people.
One of the projects of this kind is Nomad Coliving in Montreal, Canada.
Nomad Coliving (Noco) is not only the first coliving of this kind in Canada but one of those colivings that opened way before this trend appeared. Opened in 2018, NoCo was not born out of a wish to create a prosperous business but as a solution for travelers, remote workers, and digital nomads from all over the world.
Soon, Noco became an intercultural place of gathering, learning, and connecting while opening the doors of Montreal to newcomers.
Today, Nomad Coliving attracts people way beyond those already coming to Montreal. Because of its culturally inclusive community and affordability for non-Westerners, remote workers often choose Montreal because of Noco and not the other way around.
Meet Noco's founder, Maria Kinoshita, and take a peek behind the curtain of Nomad Coliving in the interview between MCS and Maria below.
How it all started
1. Could you tell us how you decided to open Nomad Coliving and share a little about the journey that led you to that decision?
I've been working remotely for a long time, even before the whole coliving trend took off. And because I was traveling a lot, my friend suggested checking out this co-living that she had read about in an article.
She said, "This looks like something that would be nice for you" and I said, "Oh yeah! Let's visit it someday.". I left it in the back of my mind then but ultimately decided to check the experience.
They were probably one of the first concepts like this – Liv.it. I visited them, then stayed in two coliving spaces in Bali. It was my first experience like this.
Once I got back from traveling, I realized that there was nothing similar to this in Canada, that would allow people to travel and work. I thought it would be nice to build the first space in Montreal. For others but also for myself.
As I travel a lot, so it is useful for me to have a place to stay and work while I'm in the city. At the same time, I could leave for travel and not stress about renting as I did with renting my condo every time I leave.
Now I have a bigger place to care for, but it is self-sustainable, and eventually, it will be running fully independently from me.
2. How would you describe the concept behind Nomad Coliving?
Nomad Coliving is a sustainable community-based space for diverse people. It's not rooms or just accommodation.
I often say to people who are looking for a room in Montreal that Nomad Coliving is not for them, because it's not about the rooms, it's a community-led space designed by and for the community.
3. Have you had the opportunity to stay/work in some similar type of accommodation before you decided to open your own place that inspired you to open Nomad Coliving?
The ones that I've been to, in the US, Europe, and Asia, were very early in the game. Sadly, a lot of them closed down.
There was one I liked in Thailand that doesn't exist anymore. It was a project created by a Thai woman. It brought a lot of value because it was easier to be close to the Thai community with a local owner.
So, that was something that I really liked and that stuck with me – the value of a local owner.
4. What was the most difficult and challenging for you in the process of opening Nomad Coliving?
The construction was much more challenging here in Quebec than I anticipated. We had to opt for a commercial and had trouble finding someone who would do it for us because we were small.
The prices are very high here for commercial construction, and we had a lot of problems with the union. It was a really difficult time. In other parts of Canada, this might not have been such an issue, but in Quebec, it was a struggle.
Looking back now, I would never put myself through that stress again. That's why I'm against any larger development here.
If I'm ever involved in anything else, it will be something without construction or very light construction, or with another team member taking care of the building side.
In the future, I'm looking at possibilities to develop the project outside of Canada, most likely in Okinawa, Japan.
5. What is your relationship with other coliving spaces in or outside of North America?
I'm familiar with, and keep in touch with some other places, including some that I like but I still haven't visited.
I've been rather active in participating or talking to coliving/coworking conferences, where I had the chance to meet super interesting people.
In Spain, I had the chance to connect with Nacho Rodriguez (repeople & NomadCity), Maria Sirotkina (Restation, Nomad Train), and Jon Hormaetxe Castells (Sun&co), cheers to them.
Management
6. What type of management do you practice?
In the beginning, we had a house manager that would come in two or three times a week.
Then, when Covid hit, and I came back from my travels, there was a smaller group of people in the house that was living there, and we needed to isolate for a while so we couldn't keep the house manager during this period anymore. Luckily, the house dynamics had already been set and working well without staff.
Even though I'm the owner and have been managing this place for almost five years, I don't think of myself as the manager.
The coliving is self-managed in an organic way by our community.
We always have a lot of people in the house who were here before and who are already comfortable and familiar with the place. So, somebody is always there to take over that community leadership role and help out new colivers in terms of touring the space, onboarding them into the community, etc.
There is still a lot of work to do around the house, so we will be hiring in the future, but for now, we're managing it ourselves, and it works well. We will eventually include volunteers and staff to help out.
We also have a lot of inmates (that's what we call ourselves 😉) that want to open their own space someday, too. So, they tend to help out and get more deeply involved to learn and take notes for when they open their space.
7. What kind of activities and events can colivers experience while staying at your place?
The community is usually very entrepreneurial and will organize activities so they are very diverse, depending on the group's interest.
We usually have lots of people going to festivals, comedy, improv and music shows, restaurants, movies, etc. Hikes, bike rides, and weekend field trips to Quebec City, Ottawa, and Toronto have been very popular and we will occasionally have a bigger group that would be interested in climbing, circus / acro-yoga training, or swimming together.
Also, some residents support each other in a very organic way. We had a business coach with us who would organize coaching events, an inmate was learning massage and brought her massage table to practice on us. As an example, today, someone was booked on an interview for a product manager role, and there are some in-house, so they sat down to discuss the role.
Before Covid, we used to have a bit more activities with the local community. When Covid hit, we couldn't welcome outsiders, but we are starting to welcome them again gradually.
8. Do you have some special offers/discounts?
For example, we grandfathered the price for the people who have been a part of the community for a long time and spend a lot of time with us. The active long-term members are community leaders and they're very valuable in the group dynamics.
They usually organize more activities, share media, onboard new colivers, help to keep the place clean by enforcing the rules, etc.
9. With the standard in Canada and the price of colivings in Western countries in mind, Nomad Coliving seems very affordable. How come this is the case?
Even though we're not registered as a nonprofit, Nomad Coliving operates like a nonprofit project.
I started it as a passion project and not a money maker, as I already get comfortable income from my edTech business, Octo D.
The only financial goal was to cover expenses and make it financially self-sustainable. In the end, it was a pleasant surprise that the building's value went up, so I make money with the building valuation but not the day-to-day operations.
Nomad Coliving is a project whose goal is to provide an affordable mid-term stay for a very diverse community, filling a gap locally as there is no organization locally offering this service.
10. Other than offering affordable prices in general, you also offer a reduced price to some people in certain situations. Can you elaborate on this?
We offer a reduced price range for people who are in a less privileged situation or coming in with a lower income due to moving from a developing country.
As an example, we had a member who left her previous life to pursue a dream of becoming a massage therapist. She came to study massage therapy and didn't have any income. This was a cool match because she also aspired to open a coliving herself, so she was helping around the house a lot and was using us as guinea pigs for massages. We recently had a person who lost his work permit, so he paid a lower amount until he could get back onto his feet.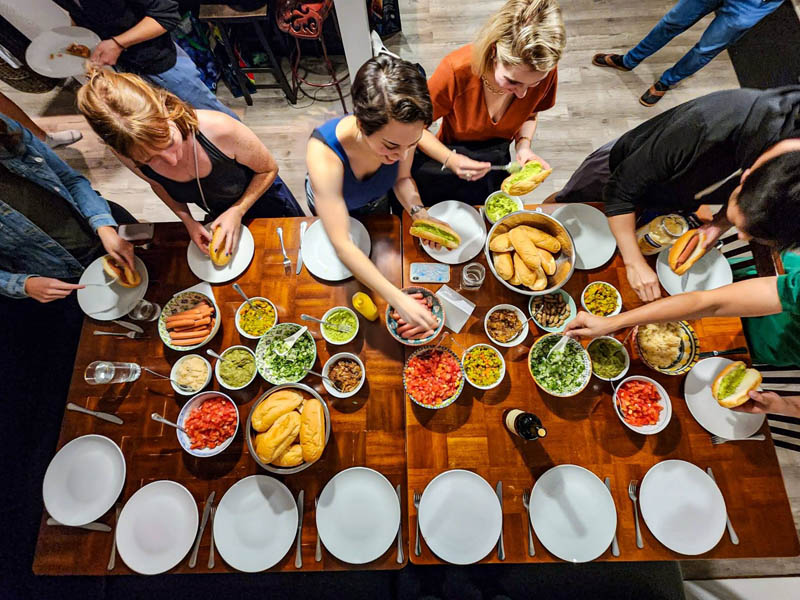 We also recently had a woman who owned a coliving in Ukraine before it was bombed, and we offered a spot. She ended up finding another solution, but in these more extreme cases, we are open to offering a free room.
It doesn't always have to be an exchange or a win-win. For me, living in South-East Asia or Eastern Europe is really cheap, and I feel very privileged and thankful to be able to do it.
I use the coliving to give back, to counter the geo arbitrage effect. My goal is to enable this experience for everybody wherever they come from.
Other people who can benefit from our lower price ranges are those working on a not-for-profit project or coming from a Canadian indigenous community because we're built on their land after all.
The Noco Community
11. What is the profile of people who are most likely to stay at your place?
It's important to welcome people from different backgrounds. We've had people from typical places like the US, Europe, and Australia, but we've also proudly welcomed colivers from Chile, Brazil, Mexico, China, Dominican Republic, Russia, Indonesia, Morocco, Tunisia, and even Cameroon.
Most typically, people staying at Noco are developers, marketers, and entrepreneurs. But we had influencers, artists, government workers, all sorts of consultants and coaches, etc.
In terms of activity, it's very diverse too. We host people from everywhere, which makes the community very rich.
12. What is the motivation behind people choosing Nomad Coliving?
The community is probably the biggest one. Since the beginning of the project, we've been filtering out people and didn't accept tourists or people just looking for a room. It has a high financial cost at the beginning but it's worth it in the long run.
I often joke saying that we are the only ones in the area, so people have no choice but to stay with us whether they like it or not 😉.
13. What is the average age of people who are visiting your accommodation?
It's a broad range: around 25 to 45, but we had older and younger ''inmates''.
14. How long do people usually stay at your place?
Around 3 to 6 months, maybe? Very frequently people book for one month and then extend, when possible, in the winter.
During summer and fall, we are usually booked out months in advance.
15. Do you have more local people, or do you also receive foreigners?
We have half locals (lots of permanent residents of diverse origins) and half foreigners.
I would say in the winter, maybe a little bit more Europeans and North Americans because they're not bothered by the cold.
But we've also had some people seeing snow for the first time coming here and coming to experience the winter.
About the coliving movement
16. Do you think that coliving is only dedicated to a specific group of people such as freelancers, digital nomads, and remote workers, or do you think there is a possibility for it to gain popularity beyond that group of people?
It is not necessary. For example, we also have people who are not nomads but new immigrants looking for a spot to land and meet locals.
We only welcome the ones working remotely as it would be harder for them to integrate with the locals, but a place like here for new immigrants would be very useful.
I know of some colivings in Europe and the US mostly geared for long-term residents, artist residences, etc.
There are a lot of ways new coliving spaces could be beneficial.
17. Do you think coworking is a crucial component of coliving and why?
It depends on your community. At Nomad Coliving, we have a lot of remote workers, so, for us, a coworking space is crucial. But, if you're a coliving artist, then I would say an art studio is crucial.
At Nomad Coliving, everyone has a desk in their room, they can work from our coworking space, the kitchen, the living room, etc.
Some people work every day from the same spot. They have their secondary screen installed and have a strict routine. Others choose to go and work from a coffee shop every day, and some like to rotate from one space to the other, use other coworking spaces, etc.
18. Lastly, do you think the coliving trend in terms of the type of space will change in North America, and we'll see more places like Nomad Coliving or similar to what we have in Europe?
I think the trend will continue to grow in North America, but we will see more big commercial ones.
I think it's very difficult to create spaces similar to what we see in Spain and Europe, mainly because of the price of the properties. They are not getting any cheaper, and it creates a big entrance barrier. There are also challenges of construction and regulation on top of major capital needs.
---