Coliving spaces have blossomed because of their many functions. Different people find different solutions in colivings but a particularly popular solution is being able to work from a healthier and more peaceful and relaxed environment.
This demand is what inspired many coliving owners to open their spaces in rural, nature-surrounding places. Today, rural colivings are even more typical than colivings in big cities because they are born from this need to live a slower and stress-free life.
PortusHome is one of those places, a fully equipped coworking, and coliving space, tailored to fit the needs of the modern society but offering nature-induced experience and more opportunities to relax before and after work.
Situated in the beautiful Lake Balaton in Hungary, PortusHome offers the perfect remote work escape for individuals, groups, and companies.
Learn more about this Hungarian coliving in our short interview with Csaba Antal, PortusHome's owner, and manager.
How it all started
1. Could you tell us about how you decided to open a rural coliving and coworking space and a little bit about the journey that led you to that decision?
With a background in IT engineering, I have already been working remotely for 10 years.
So, when I moved with my family from Budapest to this small village at Lake Balaton, I needed a coworking space for myself.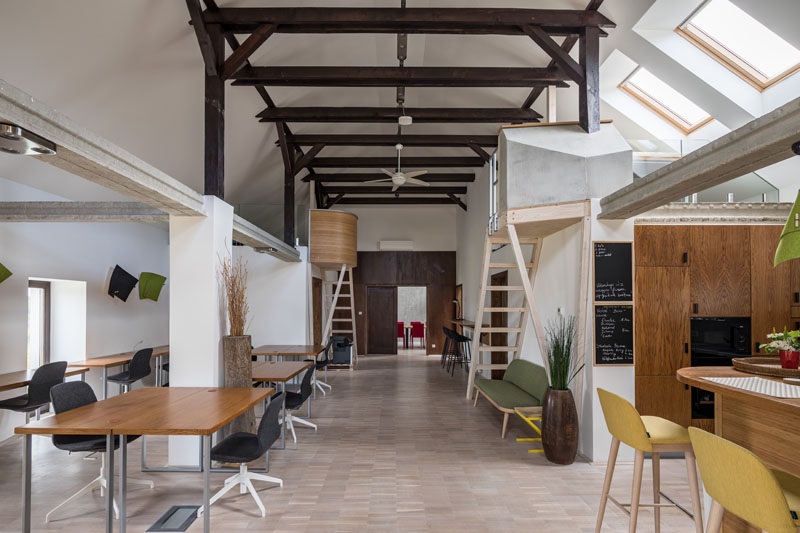 I was even more encouraged to do something like this after my IT colleagues organized an IT development sprint in one of the guesthouses in the village. Seeing this event and how the guesthouse was perfect for holidays but not for working gave me new insights that I could work with.
2. How would you describe the concept behind PortusHome Coliving?
The main message behind our concept is "to focus on work surrounded by nature"
3. Have you had the opportunity to stay/work in some similar type of accommodation before you decided to open your own place?
Yes, when I decided the jump into development, I travelled and visited different coliving spaces in Europe to gain more insights and knowledge.
4. Did you find inspiration in some other coliving or coworking spaces that influenced your approach to building your own space?
Sure. Every Coliving space is unique and not repeatable, but I took inspiration from some and collected what I think would be the best practices for PortusHome.
5. What was the most difficult and challenging for you in the process of opening PortusHome Coliving?
The most challenging thing for us was to explain our concept to the local authorities and the bank.
6. Is there something that you wished you knew before starting this project?
I wasn't prepared for how much hard work needed to be put into refurbishing the old barn house.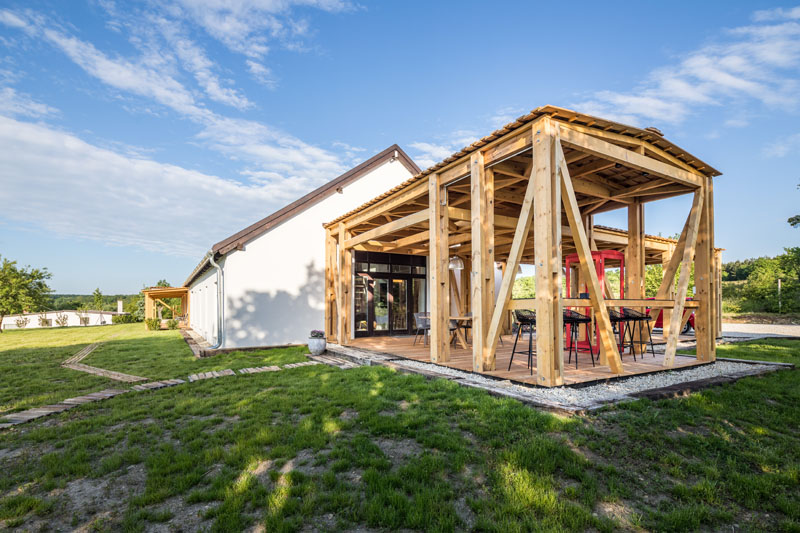 If I knew that the construction would be so challenging before I decided to jump into the development, I might have decided not to start.
7. What is your relationship with other coliving spaces in Europe?
I have a relationship with several spaces and know some owners personally. I am also a part of a few different global Coliving organisations, where we have the opportunity for knowledge-sharing.
8. What is the story behind you choosing a rural village as the location for PortusHome Coliving?
Simple – I moved to this small village from Budapest 10 years ago, liked it very much, and saw the opportunity to enable others to experience it as well.
9. What are some advantages and disadvantages (for you as owners) of building a coliving in a rural place?
The advantages are that there are no distractions, and we are close to nature and each other.
To be honest, I don't miss city life, and I would like to show others the value of this lifestyle.
10. Which uniqueness do you think PortusHome offers compared to other similar places in Europe?
We are the only rural coliving space in Hungary. PortusHome is an award-winning space for its great design, great people, and community.
Management
11. What type of management do you practice in PortusHome? (External – have someone from the outside working as a day-to-day and community manager, or internal – your team living and working on the site providing service)
All external – but my wife and myself are living in the same village just 5 minutes walking distance.
12. How much are you included in the community and daily activities of PortusHome? Are you a part of the community or your role is strictly professional?
My team and I, we are part of the community (the spirit and face behind PortusHome)
13. What activities and events do you offer at your place, and who can participate in them?
We organise different types of events on regular bases, such as startup programs, masterminds, cooking workshops, guided Nordic walking tours, e-bike tours, community launches, etc.
These events are open for coliving members, coworking members, and people who just join for the event.
The PortusHome Community
14. What is the profile of people who are most likely to stay at your place?
We receive people from very different backgrounds, like freelancers, but also corporate employees who can work remotely.
15. What is the motivation behind people choosing PortusHome? (Workation, living in a community, Going away from the city hassle…?)
To find a community, to change the work environment and not work from the home office constantly; to join regular events with others, work in a quiet place, be in nature, etc.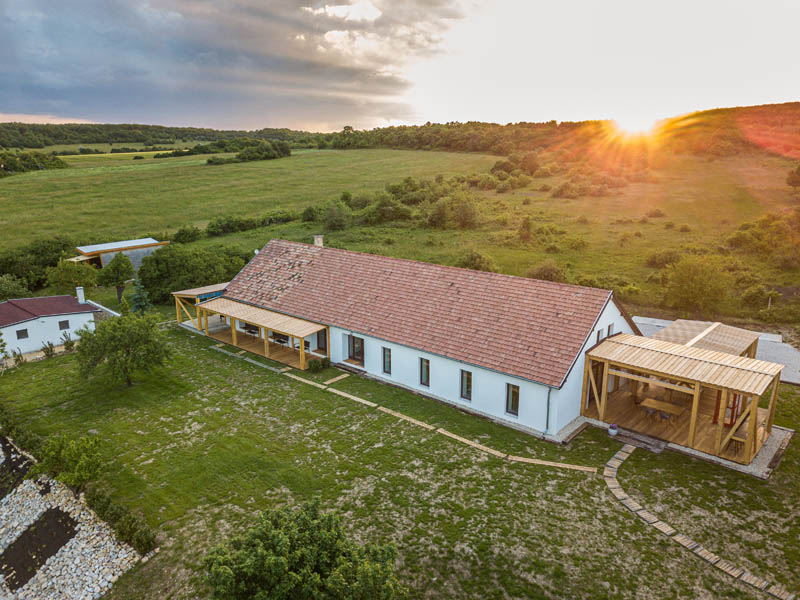 16. What is the average age of people who are visiting your accommodation?
25-50.
17. What is the average length of stay in your coliving?
1-2 weeks.
18. Do you have more local people or do you also receive foreigners?
We receive more locals at the moment, but we're working on spreading to the foreign, more global audience.
19. Your place seems suitable for group bookings. Do you get group bookings like small companies, start-ups, etc., or do you mostly receive individual bookings? Also, do you have some special offers? (For start-ups, longer stays, etc.)
Sure! We receive group bookings, PortusHome is perfect for company retreats.
20. Are your clients more interested in the coliving or coworking services?
Local people for coworking only, but others for coliving as well.
About the coliving movement
21. Do you think that coliving is only dedicated to a specific group of people such as freelancers, digital nomads, and remote workers, or do you think there is a possibility for it to gain popularity beyond that group of people?
I think, after Covid, many people from different industries – including those like bank employees – received the opportunity for remote work. Even after Covid, the trend hasn't stopped, and I think the user base will continue to grow and gain popularity over different groups of people.
22. Do you think coworking is a crucial component of coliving and why?
Without coworking, I would call it Cohousing – but cohousing is not our target segment, so, for us, coworking is a crucial component.
23. One of the main selling points of colivings is the possibility to meet new people, share experiences, and maybe even develop new partnerships. Is this the case with PortusHome as well?
Sure, I am always happy if I see interactions! You can sometimes see work cooperation between members which is great.
24. Do you have some examples where people who had the opportunity to meet at your place later managed to develop successful partnerships or relationships?
Yes. One example is that we had an IT developer and another "idea owner" meet at one of our startup events and ended up working on a common project.
25. Lastly, what would you say is PortusHome Coliving strongest value that you can offer to the coliving and coworking community?
Our strongest value is that we provide a perfect spot for an effective work day but also for connecting with people and relaxing before and after work.
---