Coliving is a place that allows people to come together around mutual interests. It's about making friends, enriching your experiences, and diving into something that might feel scary. As a coliving & coworking, Sunago House nourishes the above, gathering people around surfing, adventure, and the spirit for a new life.
As the first coliving in a surfing resort, Ericeira in Portugal, Sunago supports the development and growth of this small town, promotes it beyond national borders, and brings the local feeling to its visitors by partnering up with local service providers.
Read the whole story about Sunago in our first coliving interview on My Coliving Space, and learn about their beginnings and vision from David Buan, co-founder & CEO of Sunago coliving.
How it all started
1. Could you tell us about how you decided to open Sunago House, and a little bit about the journey that led you to that decision?
As a former video game designer, then surf instructor, I decided to open Sunago on a whim.
First of all, I wanted to allow surfers to be able to come and enjoy the Portuguese surf mecca like I did. The early plan was supposed to be a simple guesthouse, but I quickly decided to mix coliving and coworking.
2. How would you describe the concept behind Sunago?
The concept is simple, to allow individuals to live in a community under the same roof within spaces of private and common spaces.

Reduce costs, eliminate tedious contracts, offer a dedicated workspace, and eliminate daily trips between home and office.
3. Have you had the opportunity to stay/work in some similar type of accommodation before you decided to open your own place?
I spent years stuck in offices and years sharing accommodation because the cost of living was often too expensive in big cities, but I never had the chance to be a digital nomad and visit one of these places.
4. Did you find inspiration in some other coliving or coworking spaces that influenced your approach to building your own space?
I never wanted to visit any coliving & coworking places. I preferred to have my own vision, nourished by my personal experience of life with others and office life.
I just said to myself "what did you dislike when you were in the office and what was cool?" ok, so I'm going to create my space based on my preferences; most of my future guests should find it there too. It was very visceral, instinctively.
5. What was the most difficult and challenging for you in the process of opening Sunago House?
The renovation of the house was the hardest. We transformed almost everything and having a coworking space separate from the coliving was a requirement. It took a little longer than expected!
We opened the renovated house to the first digital nomads 2 days before the covid crisis, as much to tell you that the challenge was significant from the start, our concept was solid; we held on, and we survived.
6. Is there something that you wished you knew before starting this project?
Yes, would have been nice to know the covid crisis in advance to avoid last minute panic attack! If I had known that I would open a Coliving house 2 days before a global health crisis.
7. What is your relationship with other coliving spaces in Portugal?
We don't have too many contacts with other coliving and coworking in Portugal apart from maybe a few likes on social networks, and that's a shame.
8. What is the story behind you choosing Ericeira as the location for your coliving?
I visited Ericeira 10 years ago on vacation; there was not much, then back in 2016, I was surprised with the development, the village which had become a small town, I said to myself that this magic place was going to become a solid destination in Portugal in the years to come and that it was necessary to invest as quickly as possible.
9. Which uniqueness do you think Sunago offers compared to other similar places in Portugal?
We have succeeded in creating a solid community, by also working with the locals. The diversity of our guests is what makes us strong. We are also one of the only coliving & coworking in Europe located in a world surf reserve and close to one of the most exciting European capitals.
Management
10. What type of management do you practice in Sunago?
At the moment, with my partner, we manage all the tasks ourselves, from marketing and social media to check-ins and checkouts, gardening, and housekeeping.
For outdoor activities (climbing, surfing, horse riding, …); some are delegated to local partner companies.
However, we do not live where we work but are present every day at the coliving.
11. How much are you included in the community and daily activities Sunago House?
We are an integral part of our community. It often happens that we join dinners organized by our guests, some sports activities, or evenings in town. Moreover, with some, we have become very close friends over time.
12. You offer both coliving with coworking and only coworking as an individual service. What is the relationship between these two types of clients in the sense of community activities, hanging out together, etc.?
We mainly offer Coliving & Coworking, but we have a few free places for outside coworkers, and we always invite them to the events we organize; they can be part of our community if they wish or remain more discreet.
13. You offer a variety of outdoor activities in partnerships with different local professionals. Can you share a bit more about these events?
Our outdoor activities are accessible as many times a week as our guests wish, ranging from surf lessons to rock climbing, beach volleyball, bouldering, or coastal hikes…
Our partners regularly communicate with us and then take care of contacting our guests and managing the logistics with them, and yes, we do have discounted prices.
14. Do you offer any other activities and events at your place, besides outdoor activities?
We very often organize BBQ evenings, dinners, movie nights, wine tasting, surf theory classes, and weather forecast workshops… we often invite our friends and the guests to do the same, it allows us to create new connections, and then we are crazy about cooking and good wines!
15. Can you tell us a bit more about your partnership with Monja and the weekly breakfast that is available for your colivers?
We were one of the first tourism businesses to believe in the adventure of our friends from Monja. We tested their products, we gave them feedback, and they knew how to adapt and constantly offer homemade products and quality. We are therefore proud to offer this to our guests and that Monja recently opened its first store in Ericeira.
The Sunago House Community
16. What is the profile of people who are most likely to stay at your place?
We have all types of profiles, but let's say that, in general, they are young dynamic, sporty people for the most part who work either remotely or freelance.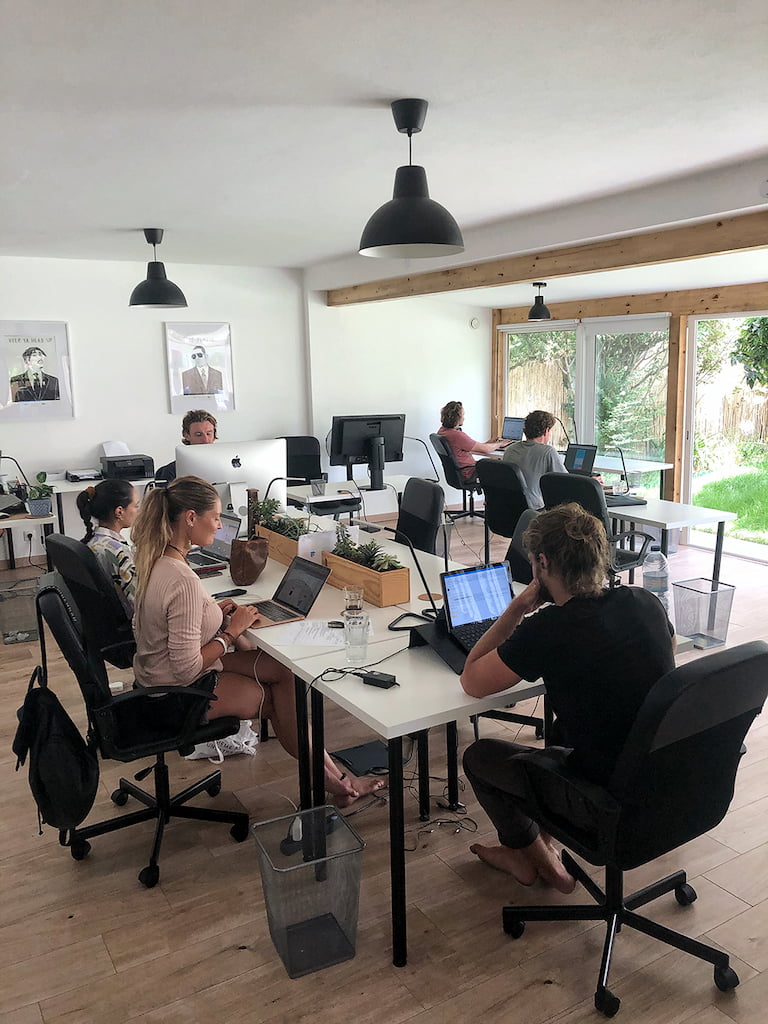 17. What is the motivation behind people choosing Sunago House?
I never asked them the question, but I have the impression that they come here looking for a place like home, with interesting people around them, to be able to make friends and have comfort, freedom of thought, and, of course, to surf in the capital of Portuguese surfing.
18. What is the average age of people who are visiting your accommodation?
The average age is between 25 and 35 years old, with a majority of them being women.
19. What is the average length of stay in your coliving?
The average stay is a few weeks.
20. Do you have more local people or do you also receive foreigners?
We have not yet received locals from Ericeira, but we have received Portuguese from the Azores, Madeira, Porto, and Lisbon, as well as more than 35 nationalities from all over the world.
21. Are your clients more interested in the coliving or coworking services?
The vast majority of our customers come for coliving & coworking.
About the coliving movement
22. Do you think that coliving is only dedicated to a specific group of people such as freelancers, digital nomads, and remote workers, or do you think there is a possibility for it to gain popularity beyond that group of people?
It's a difficult question, but I think that more and more people will turn to coliving to compensate for the increase in the cost of living. We are all more or less impacted by this, and it's not going to improve.
23. Do you think coworking is a crucial component of coliving and why?
I don't think it's crucial. I know from experience that one can work without the other. However, if people can live together, surely they can also work together, and that is what we are developing at Sunago House.
24. One of the main selling points of colivings is the possibility to meet new people, share experiences, and maybe even develop new partnerships. Is this the case with Sunago House as well?
Yes, this is also the case at Sunago House. We believe that living in a community brings a lot of positive things, whether on a personal or professional level.
25. Do you have some examples where people who had the opportunity to meet at your place later managed to develop successful partnerships or relationships?
I was very pleasantly surprised to see that many of our guests, once their stay is over in Sunago, go on a trip altogether, some even stayed to live in Ericeira, and we all ended up sharing houses or apartments together; some even approached me to discuss an expansion of Sunago somewhere else.
26. Lastly, what would you say is Sunago's strongest value that you can offer to the coliving and coworking community?
We laid the first brick at a time when there was nothing for digital nomads in Ericeira, our greatest value is the very nature of our foundations: "professionalism, seriousness, passion, and the love of a job well done ".
Everything has been thought out beforehand to make life easier for our guests when traveling. Like a home away from home.
---